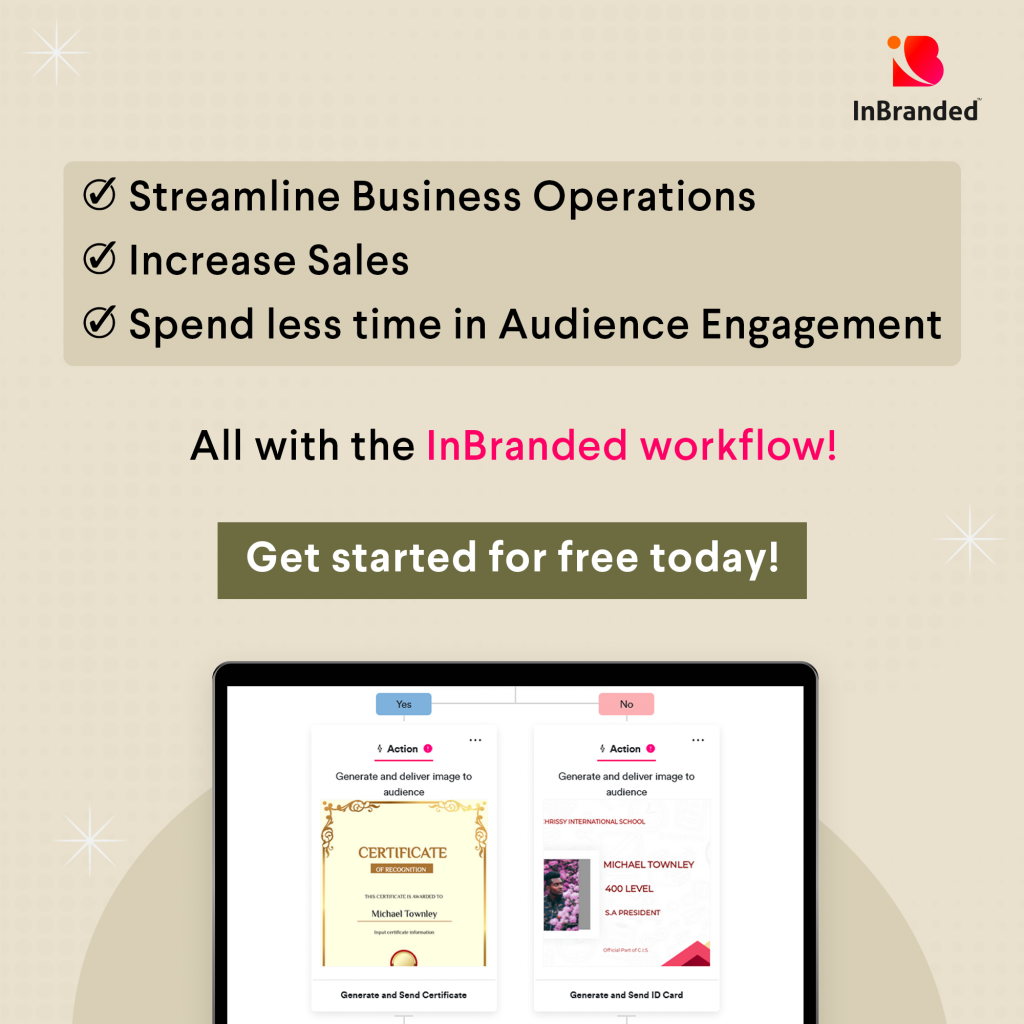 When the simile "as easy as pie" was written, a workflow was pun intended in the writer's mind.
According to the Bureau of Labour Statistics, approximately 20% of small businesses fail within two years of being open. This stat is proof of the challenges of small businesses such as too little financing, bad location, Internet presence, marketing, mismanagement of business processes, etc.
Let's talk about business processes!
According to Kissflow, "Businesses losing over $1 trillion in process gaps and lapses in workplace productivity."
As a business owner, you have repetitive processes and tasks that occur in a particular order in your business at different times. This may include but is not limited to:
Send notifications, reminders, and alerts to targeted members/segments of the audience/customers.
Schedule emails to promote your next product/service listing.
Automate your subscriptions for your listing platforms
Make use of extra marketing tools or social channels such as WhatsApp- to boost your audience engagement, and Slack- to communicate effectively with your team members and also get notifications from your audience/customers.
Automate social media posts for optimum reach
Engage your website visitors who are seeking.
Visually track tasks and milestones in a project schedule.
Know what tasks need to be completed.
Know who was responsible for each task.
The list is endless!
The question is, do you want to do this at every point in time? Wouldn't it become boring to do this over and over again for every new prospect, client, team member, etc.?
This is why I am introducing workflow to you to ease some business hurdles so that you have time for other productive things and more importantly time to rest from work.
What is Workflow?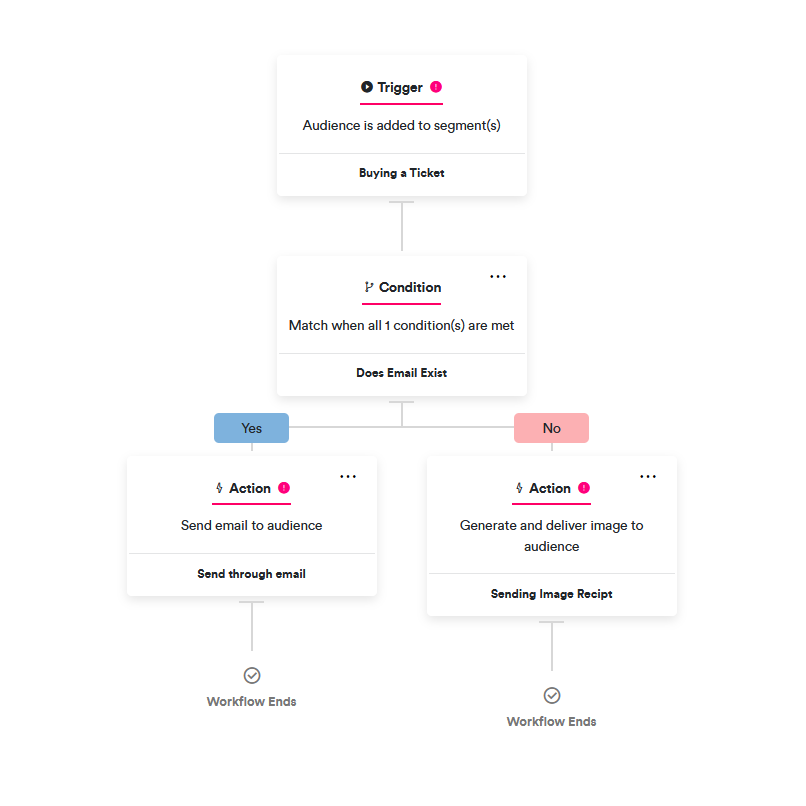 Workflow is an integration of brand processes to reduce repetitive tasks, increase productivity, enhance customer experience, and increase lead conversion. This means that you can automate your audience engagement, sales funnel, staff or customer onboarding, data entry, and to-do lists among other brand processes.
Automation is the use of technology (applications) to monitor and control some processes that you could have done manually or in time-wasting bits. It makes it easier to analyze, track or evaluate your processes. For example, you can automate follow-up that can trigger certain actions, such as emails and special offers, that will encourage prospects to buy or customers to buy again.
Why You Should Automate That Frustrating Process
Do it yourself
You don't need to be tech-savvy or have background knowledge of workflow to set up a workflow, especially at Inbranded. The tools are simplified to enable you to do it yourself.
Visualize the Process
You can visualize the steps involved in a process and the order they should go in from the first step to the final step. More so, you can check when one step has been completed successfully and the next step can begin.
Eliminate Redundant Manual Tasks
With workflow, you can configure the system to trigger steps based on conditions to automatically delegate tasks. For example, if you have a project, you can make your workflow take tasks to the appropriate workers.
Inbranded empowers you to easily automate your work for different purposes and across various social platforms. Hence, you can move forward faster in your brand activities.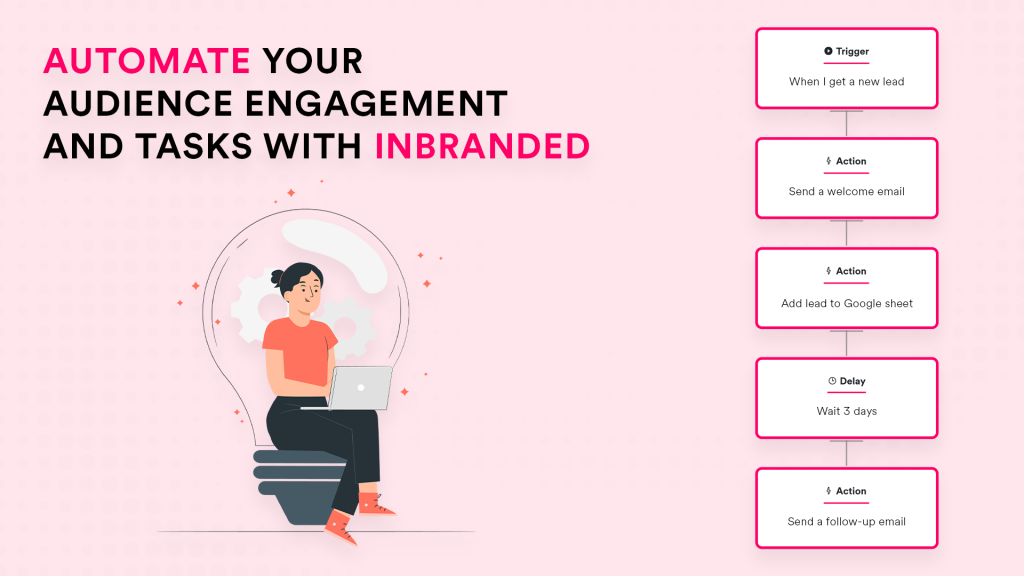 For Example:
You can nurture your audience through emails on workflow in these four steps:
Step 1- Sign up and set up a workflow at inbranded.co/workflow
You can sign up with email, Google, Facebook, and other social platforms in seconds to give you access to the Inbranded workflow tools that enable you to set up any of your workflows but in this case, your audience engagement.
Step 2- Get notified when you have a new signup
After signup and setting up a trigger such as "Get notified when you have a new signup on your website", you can get a notification on Slack, WhatsApp, or any other App that Inbranded Integration allows. (Yes, Inbranded let you add up some Apps to your workflow to make your work easier)
Step 3- Send a welcome email
So, you got a notification and your next condition is to send a prospect a welcome email. The good thing is you don't have to do this yourself every time, the workflow does it for you once you set it up.
Step 4- Add to Google sheet
For accountability and follow-up, you can add the new contacts to a Google sheet. You set it up once and it does it for every of your website visitors,
For clarity, See how the workflow works at Inbranded-
Create automated workflows that do more than just one thing via inbranded.co/workflow
---
---