Valentine's Day is just around the corner, and you know what that means: time to plan another one of those elaborate romantic dinners and try to spend as much time with your loved ones as possible. But there's so much more you can do with this holiday while expressing love and spending time with your loved ones, especially as a business owner.
If you're aiming to make a huge profit this season, you need smart marketing ideas, as most Valentine's Day spending occurs during this time.
5 Valentine's Day Marketing Ideas
And guess what?! We've got some exciting ideas you can use to generate, increase sales, and spread love to your customers as much as you can.
Website Promotional Popups
Website pop-ups are small windows that suddenly appear when you land on a website, it is also a form of online advertising. Here's an example: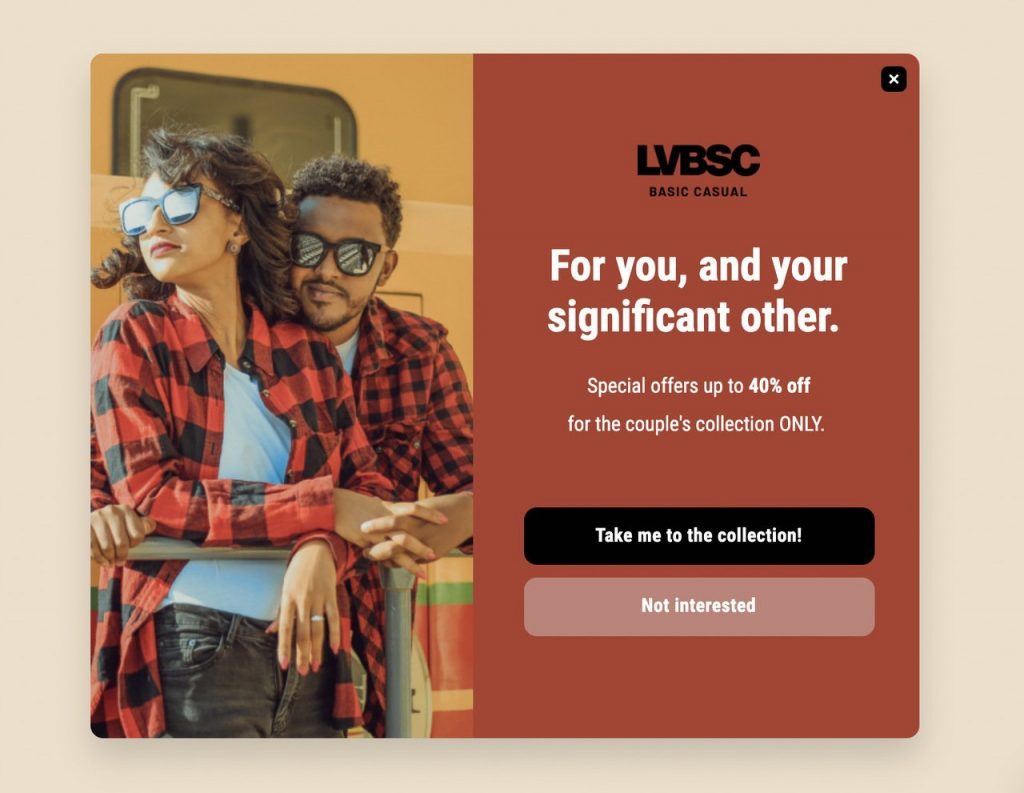 During Valentine's season, contextual popups on your most popular pages can significantly boost your revenue, attract new customers and engage with your website visitors.
The emotion-packed headline + a coupon code for a special collection -there's the attention grab! and it will clearly drive clicks (and even conversions).
You can also offer them a coupon code or a unique Valentine's Gifting Guide in return for their emails. This will help to grow and build your email list fast.
SMS Marketing for Sharing Exclusive Deals
SMS campaigns are a powerful medium for eCommerce businesses looking for engagement and conversions. For Valentine's, you can leverage this medium, which is otherwise ignored by many of your competitors. For example, you can share exclusive deals, sneak peeks, and limited-period offers via SMS with your subscribers.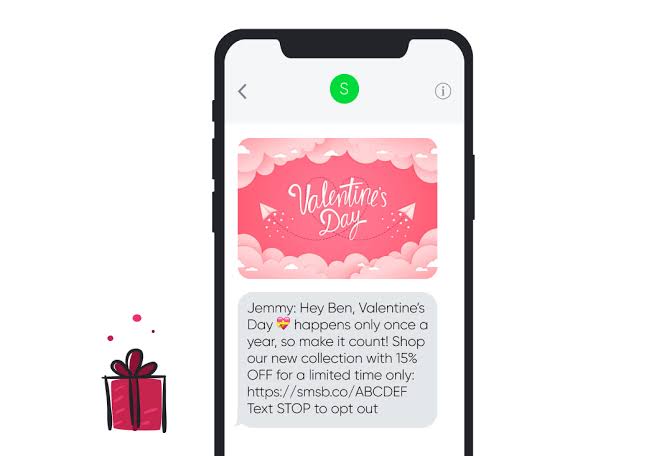 Show Love to Single People
Valentine's Day is seen as the day of the couples. But there's a bigger growth opportunity in targeting singles during Valentine's season and showing the power of self-love.
You could launch a campaign targeting singles during Valentine's and collaborate with social media influencers to promote the idea.
Video Content
Video content can be a powerful tool for valentines day marketing and promoting your Valentine's Day offers. You probably already realize the potential of a viral TikTok or Insta reel.
Consider creating a short, attention-grabbing video that showcases the feeling of love and introduces your product, deals, or V-day offers in the discussion. You can even plan an elaborate video campaign through February to give people ideas based on your brand and offers.
You can also create love-themed videos as an email along with a personalized Valentine's Day card note to your subscribers.
Key Takeaways: Best Valentine's Day Ideas
Be creative with your sale offers on Valentine's Day
Create month-long campaigns to nurture leads during the days leading to Valentine's, on V-day, and after Valentine's Day
Center your Valentine's campaign around emotions and feelings;
Use Valentine's campaign ideas unique to your niche and it's the audience
Pay special attention to the creatives and copy of your Valentine's ad and email campaigns.
Conclusion
In the end, it's really up to you to decide how you'll invest in this holiday. You could opt to continue with your day-to-day operations without investing any time or effort into elaborate marketing. Alternatively, you can take a more imaginative approach and roll out some brilliant marketing campaigns that are sure to leave your customers wanting more, and to make the work faster, you can consider trying Inbranded.
Combine your emails and workflow into a smoothly-knit automation sequence to create the perfect high-conversion engine for your business.
Additionally, Inbranded features include; Email builder, Workflow automation, Design builder, Campaign builder, Whatsapp Integration, Google sheets, Googlesheets, Eventprime, and Personalized images.
Not ready to jump in yet? Try out the FREE plan that gives you 1000 credits to try out all our amazing features. Visit inbranded.co to get started.
---
---